The Sendle shipping settings can be found here :
Go to Dashboard >> WooCommerce >> Settings >> Shipping ->Sendle.
Here you need to select the mode Live/Sandbox, Title, Sendle ID, API Key, Pickup Suburb & Postcode.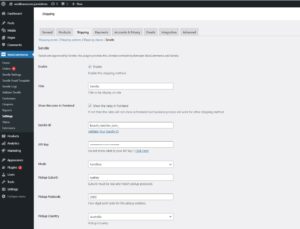 Mode : There are two mode Live/Sandbox.
Sendle provides access to a sandbox server at https://sandbox.sendle.com. You will need to create a new account for the sandbox server – just like you did for Sendle and set up a sandbox credit card.
Any orders created on the sandbox server will be created in the test mode, they will not result in actual consignments that can be used to send a parcel. Using a valid credit card in Sandbox will not work, so please review Stripe's test credit card numbers.
Title : A title to display as shipping method.
Sendle ID & API Key : This can be obtained from here.
Pickup Suburb : Suburb must be real and match pickup postcode.
Pickup Postcode : Four-digit post code for the pickup address.